Survey: CEOs seek crisis communications technology solutions to mitigate increasing reputational risks
Berg & Associates, a PR firm specializing in crisis communications, released the results today of a nationwide survey measuring the reputational risks faced by large companies. The findings show the vast majority of CEOs and executives – 70% – say their businesses are experiencing a significant increase in high-profile crises or events like workplace violence or lawsuits, and 55% say events that threaten their reputation have also increased.
"The bottom line is that businesses are under increasing pressure to respond quickly and effectively to growing risks that affect their reputation, and ultimately, their long-term performance," said Robert Jones, Vice President, GS Strategy Group. "They're looking for solutions that improve their crisis responses, and technology is the single biggest investment they're ready to make.
Nearly 80% of business leaders say they could be more prepared to respond to crises, with 77% saying they would invest in crisis communications technology to improve their response. Two-thirds would invest in process and plan development.
"Many companies are already investing in risk management programs to operationally respond to crises, but their blind spot is crisis communications and reputational risk mitigation," said Shannon Berg, CEO and Founder of Berg & Associates. "Too often, we see crisis communications plans that are divorced from the operational responses and aren't actionable. Technology has the power to streamline, automate, and up-level a company's crisis response, and CEOs are ready to invest to protect their reputation."
GS Strategy Group, a Boise-based survey research firm, conducted the research on behalf of Berg & Associates. The online survey was conducted July 12-15, 2021, among 100 CEOs, COOs, and business owners of large companies (more than 500 employees) throughout the United States.
Below are the key findings from that research.
Finding 1: Overwhelming majority of CEOs say business crises are growing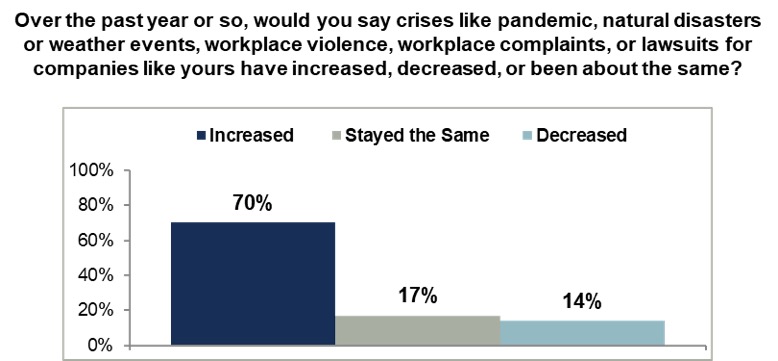 Finding 2: Majority of CEOs perceive greater reputational risks to their companies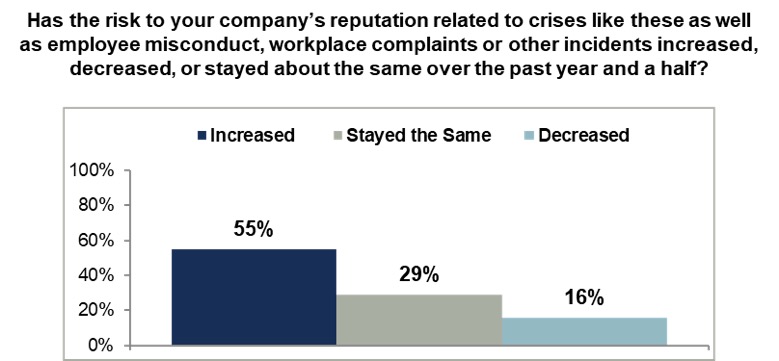 Finding 3: Data security leads the list of business risks today, followed closely by social/political issues, natural disasters, and employee misconduct.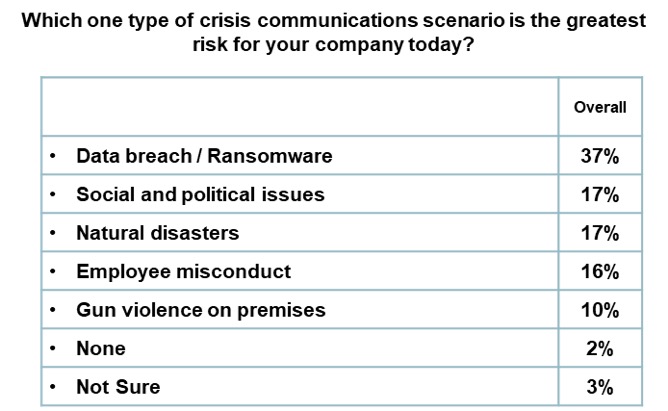 Finding 4: Nearly 80% of business leaders say their company could be more prepared for crisis response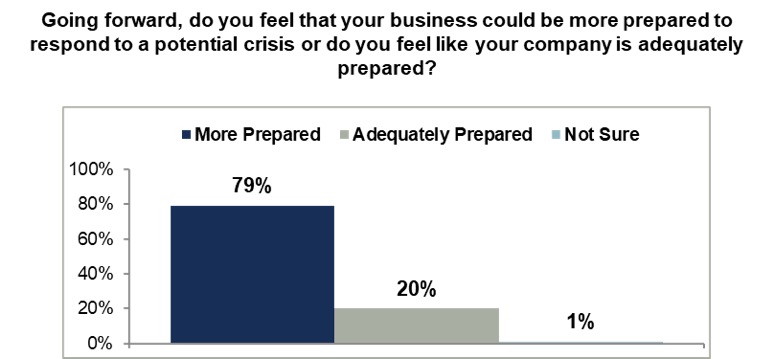 Finding 5: Business leaders identify technology as top tool for improving crisis communication response