Berg & Associates
is an award-winning PR and reputation resilience consulting firm. We help businesses protect their reputation and build trust with their employees, customers, and community.
Our approach: live your values, know and meet the expectations of your stakeholders, and fulfill your promises.
X
Shannon Berg, APR
shannon@bergassociatesnw.com
503-347-8822
LinkedIn
Shannon Berg, APR, is the Founder & CEO of Berg & Associates. Shannon has more than 20 years of PR consulting experience and specializes in crisis communications and issues management. Shannon has expertise in litigation PR, labor communications, reputation management, incident response and a broad range of regulatory, employment and industry-related issues. She is an experienced workshop facilitator and has built a suite of trainings to help businesses evolve and elevate their communications skills and crisis preparedness. In addition to advising clients, Shannon enjoys speaking to communicators and industry groups on the role of communications in effective crisis response.
Prior to founding Berg & Associates, Shannon was an owner and managing partner of a regional public affairs firm, where she led issues advocacy campaigns, conducted media and presentation trainings and provided crisis communications, issues management and litigation PR consulting services.
Originally from Detroit, Michigan, Shannon served as the director of communications for the City of Detroit and press secretary to Detroit's mayor. In that post she played an integral role in the city's response to the 3-day Northeast blackout of 2013. From there, her crisis communications experience expanded to include class action and high-profile litigation, data breaches, employment and labor disputes, regulatory threats and complex issues management.
Shannon graduated from Wayne State University in Detroit with a Bachelor of Fine Arts degree in public relations. She earned her APR accreditation and is a Leadership Detroit and Leadership Portland alumni. Shannon is FEMA certified in early terrorism warning and response and earned a PRSA masters course certification in crisis communications.
She lives in Southwest Portland with her husband Erik and their children, Charlie, age 9, Frances, age 7, and Ingrid, age 5. When she's not working or parenting, she's hitting the trails with Hilda, her standard poodle, training for a trail race.
X
Sonrisa Bordieri
Sonrisa Bordieri is a social media specialist with experience in research, analytics, and engagement strategies that drive audience growth and advance business objectives. With a bachelor's degree in public relations from the University of Oregon, Sonrisa has gained real-world experience working for a range of organizations from startups to nonprofits to a global athletic wear brand. Clients benefit from her technical savvy and ability to manage tactics and data across a wide variety of social media and project management platforms on deadline.
Currently dividing her time between Eugene and Beaverton, Sonrisa is adept at moving about the world. The daughter of parents who run a global relief nonprofit, Sonrisa was born in Thailand and has traveled to Taiwan, the Philippines, Cambodia, Chile, Mexico, England, and France. In addition to her love for experiencing other cultures, Sonrisa is an avid shopper.
X
Megan Deisler
megan@bergassociatesnw.com
LinkedIn
For more than 13 years, Megan Deisler has led successful communication strategies that resonate with her client's stakeholders, drive customer preference and advance business goals. Megan's natural talent for building relationships and asking the right questions allow her to gain a deep understanding of her clients' needs, what success means to them and what their audiences value. Her strong organization skills keep projects and teams moving forward.
Prior to joining Berg & Associates in November 2019, Megan worked at Legacy Health, serving as a senior member of the Public & Community Relations team advising the chief executive officer, senior leadership and clinical teams on effective corporate, crisis and internal communication strategies. Megan also has agency experience having previously worked with Berg & Associates founder, president and CEO, Shannon Berg, at a Pacific Northwest public affairs firm. She worked alongside Shannon to develop and execute public and community relations campaigns, crisis communications training and strategies, and events for a wide range of high-profile clients.
Megan earned her stripes right out of college on Capitol Hill serving as Deputy Press Secretary to a United States Senator. She learned how to run a busy press office where her responsibilities changed almost by the minute. Whether it was organizing national press conferences, staffing the Senator at high-stakes national media interviews, speechwriting, placing stories and opinion pieces, or managing the Senator's monthly newsletter, there was never a shortage of learning opportunities.
Megan is a native Oregonian who grew up in Portland and went to college at the University of Oregon where she studied Public Relations at the School of Journalism. She still lives in Portland with her husband Eric and her two young boys, George, 4, and Maxwell who was born in June 2019. Together, they enjoy exploring Oregon and all its diverse and beautiful treasures.
X
Haley Dowell
haley@bergassociatesnw.com
LinkedIn
Haley Dowell serves the full gamut of Berg & Associate clients but specializes in tech PR, with experience leading media relations for B2B clients ranging from large-scale telecom and enterprise companies to start-ups. Prior to joining Berg & Associates, Haley was a senior account executive at a global public relations agency, where she developed the ability to dissect complex and technical stories to build strong narratives for her clients and secure award-winning results.
Haley has built a reputation in the PR industry for her relentless pursuit of excellence. Whether she's developing a communications plan or managing day-to-day tactics, she always asks herself, "What could we do to make this even better?" She aims to exceed client expectations with best-in-class execution.
Haley juggled multiple internships during college, including a position as an account executive for the University of Oregon's student-run PR firm and an intern for a Eugene-based PR consulting firm. In both roles, she was responsible for social media development and execution for clients. Haley crossed paths with Berg & Associates founder Shannon Berg while interning at a Pacific Northwest public affairs firm, assisting the team with media monitoring, social media planning, and content development.
She has always had a love for writing and storytelling whether she was writing her own personal short stories or a 1000-word essay for class. Haley attended the University of Oregon's School of Journalism & Communication where she graduated with a dual degree in Public Relations and Media Studies in 2017.
Outside the office, Haley is also a professional dancer and is currently a part of a local Portland dance company. When she is not working, you can find her at a dance studio taking class.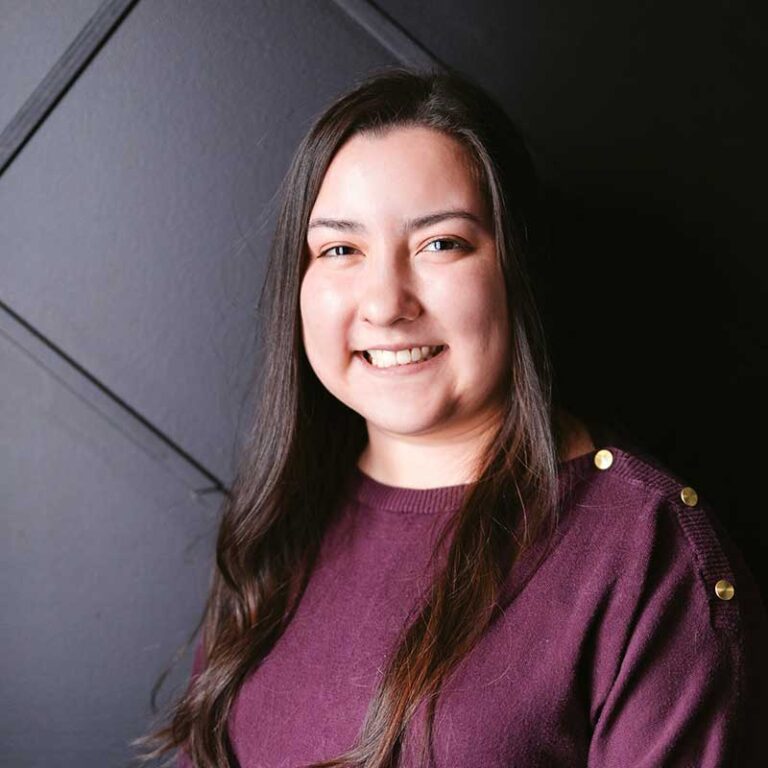 Colleen McCarthy
X
Colleen McCarthy
Colleen McCarthy is an experienced administrator with a record of driving organizational improvements in a diverse range of industries from healthcare to engineering. At Berg & Associates, Colleen serves as administrative assistant, providing executive-level support to the CEO and ensuring the business operates smoothly. Colleen is uniquely adept at identifying process gaps and designing solutions that bring simplicity and efficiency to systems and workflows.
Prior to Berg & Associates, Colleen was a billing assistant and communication skills specialist at a facility for adults with developmental disabilities. In addition to her administrative work, she has served as an adult caregiver, has completed two rigorous engineering internships, and has competency in computer-aided design (CAD). Colleen is noted for designing and executing best-practice experiments for automotive engineering studies.
Born and raised in Shelby Township, Mich., Colleen attended the University of Alabama as a chemical engineering major. In her spare time she enjoys reading, spending time with her family and exploring hiking trails with her dog.
X
Jessica Moss
jessica@bergassociatesnw.com
LinkedIn
Jessica draws on two decades of experience as a professional communicator to serve as a powerhouse researcher and content creator for Berg & Associates' clients. Jessica specializes in making difficult storytelling assignments easy. Have a complex issue? Jessica can turn it into an easy-to-digest set of facts. Want to share your message but don't know where to start? She will dig in to find the information, people and angle that will make your story resonate with your audiences. Jessica also partners with CEO Shannon Berg to conduct media and presentation trainings.
Starting her career as a television journalist in Florida, Oregon and Washington State, Jessica learned early on how to distill large amounts of information into an accessible story with speed and accuracy. Just prior to her work in public relations, she was the executive producer, anchor and reporter for a weekly magazine-style news program that covered public policy issues for TVW – Washington State's version of C-SPAN. She gained deep experience on a range of complex legislative and regulatory issues from social services and transportation to education and health care. While at TVW, she produced and hosted documentaries on health care reform implementation and the embattled state ferry system.
Before joining Berg & Associates, Jessica earned her stripes in public relations at a regional Pacific Northwest agency, where she helped build and execute small and large-scale integrated communications and public affairs campaigns on behalf of high-profile clients in a wide range of industries.
Jessica grew up in Florida and graduated summa cum laude from Southern Methodist University's communication honors program in Dallas, Texas. Today, she is a near graduate of early parenthood with her daughter Margot in kindergarten, and son Cooper following suit soon. Outside the office, Jessica and her husband spend an inordinate amount of time talking about, sourcing and cooking food, and enjoying the amenities of their little pocket of Northeast Portland.
X
Paige Parker
paige@bergassociatesnw.com
LinkedIn
Paige Parker dives deep into complex ideas and topics to coax out what makes them universal and interesting, refining information and insight into crisp, compelling messages and content.
Paige got her start as a journalist in Portland at a time when Old Oregon was making way for new, and she has been fascinated with the Pacific Northwest's people, places and politics ever since. A storyteller by nature, Paige keeps her eye on the audience and writes to inspire them as much as to inform them. She believes that our personal and professional relationships matter more than anything and delights in ferreting out the human connections between seemingly disparate issues, products and concepts.
As a professional communicator with more than 20 years of experience in the public, private and non-profit sectors, Paige specializes in executive, strategic and internal communications. Prior to joining Berg & Associates, she served as the lead writer for the Office of the President and senior manager for internal communications at Portland State University. She has prepared executives to be thought leaders at international conferences; to carry their vision to thousands of employees, and to call on business and civic leaders to partner and to act.
Paige grew up on the Northern Cheyenne Reservation in Montana and is a proud member of the tribe. She earned a Bachelor of Arts in Journalism and Native American Studies from the University of Montana and a Certificate in Project Management from Portland State's Center for Executive and Professional Education. She lives in Northeast Portland with her husband, Ryan; son, Parker; and daughter, Ruby. Paige enjoys the solitude of a long hike, the rush of a live concert, and the power and grace of her rock-climbing children.
X
Brian S. Terrett
brian@bergassociatesnw.com
LinkedIn
Brian S. Terrett, MBA, APR, Fellow PRSA, is a public relations leader with over 40 years of experience across multiple professional sectors. Brian previously served as the Director of Strategic Communications for Legacy Health. In that role he led the teams responsible for internal and external communications for one of largest healthcare systems in Portland, Oregon, and Southwest Washington.
During his tenure, he oversaw communications for a significant number of growth milestones, including the opening of Randall Children's Hospital, the alignments of Legacy Silverton Medical Center and PacificSource Health Plans, and the expansion of Legacy Medical Group and Legacy Labs. Brian also provided crisis communications leadership during the COVID-19 pandemic.
Prior to his work at Legacy Health, Brian served as the Director of Public Affairs and Communication for PeaceHealth Oregon Region in Eugene, Oregon. His most significant accomplishment in that role was the five-year effort to gain local and state approval of the new 1.7 million square foot hospital, Sacred Heart Medical Center at RiverBend, as well as the construction of the new facility. Prior to PeaceHealth, he was the Community Relations Manager for U.S. West/Qwest for the western central region of Oregon.
Prior to that role, Brian worked for the City of Eugene in several roles including the city's communication director and the public information director for the city's Public Safety Division. Brian came to Oregon after serving as the Communications Director for the First Judicial District Attorney's Office in Golden, Colorado.
Brian has a master's degree in Business Administration from Bushnell University, as well as a Bachelor of Art's degree in Journalism from Metropolitan State University of Denver. He has earned his Accreditation in Public Relations (APR) credential from the Universal Accreditation Board and has been admitted to the Public Relations Society of America's College of Fellows (Fellow PRSA). Brian and his wife successfully raised two sons, and now enjoy two grandsons. In his off time, Brian enjoys sailing, flyfishing, camping, and hiking, which includes completing the 500-mile pilgrimage from the Pyrenes of France across northern to Spain to Santiago de Compostela.
Check out our services
We are