18 lessons we learned becoming Oregon's 18th fastest-growing company
The Portland Business Journal named Berg & Associates Oregon's 18th fastest-growing private company in 2023. It was a big honor for a small company just six years in business. We've hustled. Made mistakes. Created new things. Changed course. Hired incredible people. Appreciated our clients. Honored our values. Here are 18 lessons we learned while becoming Oregon's 18th fastest-growing private company.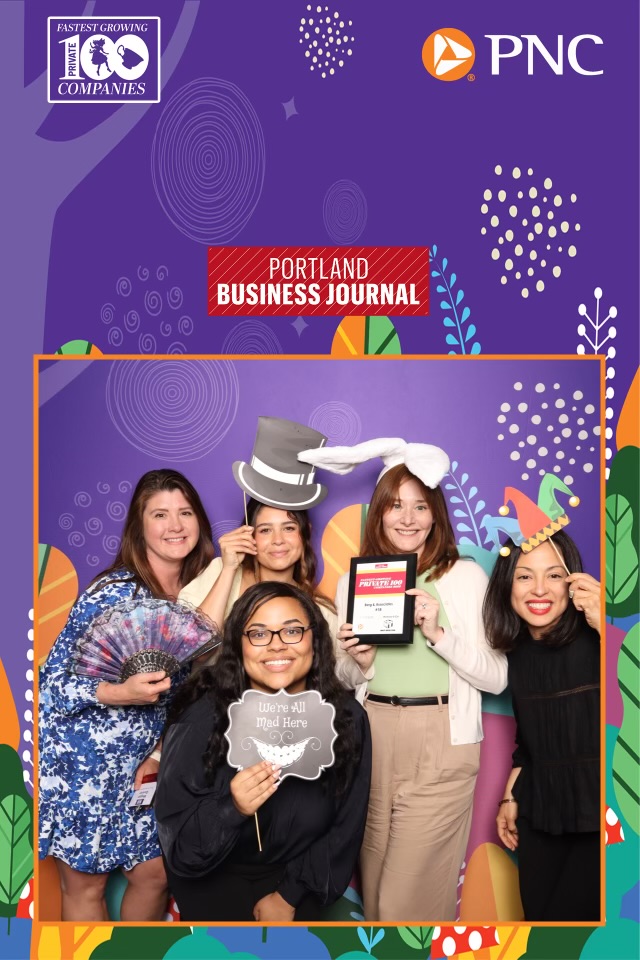 People first. That's it. That's the list topper. We've often said that if our company failed because it was too generous, we could all sleep well at night. But that won't happen. Because putting people first makes businesses flourish.
People first part two. Small businesses can have mighty benefits: Generous PTO, floating holidays, winter week of rest, 4 ½ day work week, wellness stipend, 4% employer 401k match, 100% of healthcare premium covered. It's possible.
People first part three. Hire great people and then make it your priority to give them everything they need to be successful.
The wisdom is already in the people you have today. No need to reach for it elsewhere. Instead, help them unlock it.
At some point, you just have to believe in yourself.
Decide for yourself what success is. You can do things your own way. On your terms. In order to achieve the markers of success you set for yourself.
Grow with purpose, not for the sake of growth. For us, we grow to give our people more opportunities and to create growth paths for early career team members.
Play the long game. Burnout is real. Sustainability for small businesses requires a culture of rest, regeneration and balance.
Keep the bar high for everyone. High performers value keeping company with other high performers.
Gather for connection. A Lizzo concert, three days in Ojai, brunch and bingo, a Halloween film festival and a painting class were some of our favorite connection experiences over the past year.
Be comfortable with change. You'll add new systems to support your growth. Some will work. Some won't. You just adapt and evolve.
Practice acceptance. There will be highs and lows. Challenge and reward. Uncertainty and inspiration. Hold it all loosely and with gratitude for what each experience has to teach you. 
There's magic in the hustle. We've been a scrappy, resourceful PR firm that doesn't take no for an answer. We just find another way to yes.
Work for clients you believe in. At B&A, we genuinely love our clients. Are honored to tell their stories. Invested in their success. We are part of their journey. Part of their team.
Old-fashioned customer service matters. Always be grateful for the opportunity to serve your customers.
You're never too small to make a difference. B&A gives back to the Oregon Wildlife Foundation, American Heart Association, Girls Inc., Raphael House, Taste for Equity, Kairos PDX and other nonprofits that are making communities stronger.
Let your mission and vision evolve and be shaped by the people on your team. Let go, and let your team lead the way.
Be thankful. We wouldn't be Oregon's 18th fastest-growing company without our clients. We're so grateful for your partnership, trust in us, and friendship.